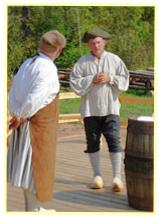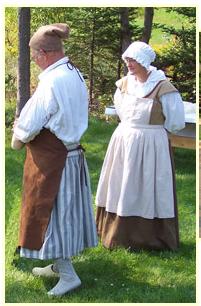 That's Life! ... In the 1700s

Walk where, in 1732, French merchant Jean Pierre Roma carved a commercial trading company out of the dense Acadian forest. Imagine Roma's crews building the first roads on P.E.I., some of which are routes we still drive today. Roma followed his dreams and as an early international trader, shipped goods to France, the West Indies, Quebec and Louisbourg.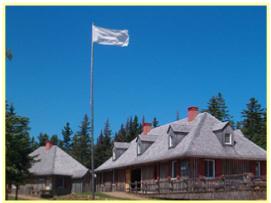 Roma believed his employees would be happier if the buildings were attractive. One of Roma's employees will explain the 1700s style piquet architecture of the reconstruction and tell the tale of why the white flag flies.

Today, Jean Pierre Roma at Three Rivers is a National Historic Site on Brudenell Point, P.E.I. where three Canadian Heritage Rivers converge. (The Montague, Brudenell & Cardigan Rivers)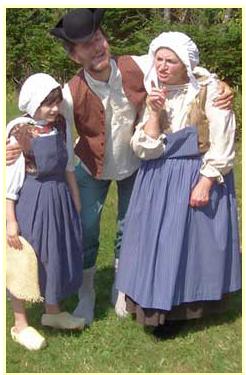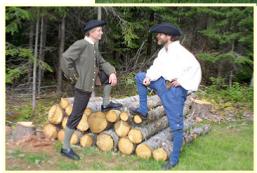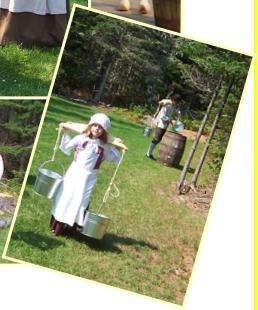 "That's Life! In the 1700s"
experience
will last for 1.5 hours
and will include in addition to the many activities, a typical Heritage Lunch of the era ...
Cost: $49.00 + pst per person for a group of 8 to 10 people.
Program must be reserved in advance.
Ask about prices for larger groups.

Activities can be adapted to the group and can include ...
*Trying on a costume
*Experimenting with wooden sabots
*Practicing how to bow and curtsey
*Hauling water
*Writing with a quill pen
*Play the games of the 1700s
*Strolling the 1700's garden to select medicinal herbs & vegetables

Roma at Three Rivers is
located
8 km from Montague on the Roma Point Road off Rte 319 in eastern PEI:
phone 902 838 3413
; email roma1732@gmail.com
You will be welcomed by Jean Pierre's house keeper, Madame Suzanne who will encourage you to don a tricorner hat or bonnet. In dress of the period, Madame Suzanne will be your guide. Decide the appropriate dress for trades and social status in New France. Come prepared with a camera to catch the fashions of the 1700s and learn about hygiene practices of the time.

Experience the etiquette, and social graces of the 1700's as you savour a traditional heritage lunch and sip Roma's herbal tea.

Learn courtesies and manners of the day.
Observe the customs and social structures.
Meet fishermen and hear their stories about life at sea.
See how children would have spent their days.
Work, play and party, as Jean Pierre Roma would
have expected you to!

Get involved in the early Island life of a 1700's
business venture, on the remote shores of Isle St. Jean,
far from home in France. Then take home a package
of Roma's Herbal Tea.

Roma at Three Rivers invites your family or group to step back in time almost 300 years to experience the life and times at Trois Rivières.