Roma envisaged the colony becoming not only a fishing community but the centre of a five-cornered international trade between Isle St. Jean, and Québec, Louisbourg, France and the West Indies. The company's five large ships would take fish to France; bring food from Quebéc until Trois Rivières would become self-sufficient; carry fish and lumber to the West Indies and bring back sugar, molasses and coffee and supply food grown at Trois Rivières to Louisbourg. Trois Rivières would be an international trade centre.

This conflicted with his partners' ideas. They wanted only to exploit the resources (fish) for a quick profit. Roma was full of plans; one was to produce beer for sale or trade. This supports the rumour that he made glass on Panmure Island. With a large military presence in the area there was a ready market for alcohol.
The terms of the grant specified that the company would bring out 80 settlers with the necessary stock in 1732 and another 30 in each subsequent year. The settlers would be encouraged to clear the land and construct public and private buildings and of course churches. The company also had permission to establish fish-drying facilities on the north shore at Havre St. Pierre (now St. Peters Bay) and receive land in proportion to the number of chaloupes (small boats) used for fishing.
Jean Pierre Roma was a superb organizer and planner, energetic, ambitious and determined (obsessed?) but to his detriment he also was self-righteous and obstinate in dealing with people. This brought on conflict with partners, government officials and clergy. The problem with the clergy started with a dispute over working on Sunday. Fortunately the governor of Louisbourg sided with Roma. On the surface the future of the settlement looked good but there was a string of difficulties/disasters, some by chance and some due to Roma's personality, which delayed progress. The success of the colony can be attributed largely to the detailed planning and scheduling by Roma. He kept meticulous records of his accomplishments and activities from which we can get a feel for life at Trois Rivières.
About 50 acres of land were cleared and 6000 stumps removed and the hollows filled to make way for the buildings and crops in the first two years. Later reports indicate about 200 acres were cleared in all. Stumps described as needing 10 to 15 men to move gives an idea of the magnitude of the task.
To protect the point from erosion (still a problem today) Roma leveled the top of the hill on the point (which was 36ft high) and built up the base with rocks and timber. For cargo handling, he constructed a pier 45.5ft out from the bank to a water depth of 11 ft at high tide. This required 300 tons of stone. A smaller wooden jetty 40ft x 12ft was built for the canoes and chaloupes.

Article by Edgar Dewar PhD, PEng: Published in The Heritage PEI Explorer's Guide July 2003

Since travel by water was unpredictable in small boats, Roma's men blazed roads through to Havre St. Pierre (St. Peter's Bay), Port La Joye (on the Hillsborough River), Sturgeon, Tracadie and Baie de la Fortune. This work was done in the winter with the men staying in temporary shelters built along the route.
Nine buildings were constructed on the plateau overlooking the water. Two 80 foot buildings, one called the Maison de la Compagnie housed Roma and his family along with a store room and the other accommodated the company's fishermen. A sixty foot building housed the labourers and visitors and a second sixty foot one housed the officers and crews of the ships. The supervisors and tradesmen had a roomy dwelling of 69 feet. One building of 50 feet was partitioned for stores. There was also a forge, a stable and a bake house, each of which was 40 feet. Some of the timbers were dragged across the ice from where Georgetown now stands. The bricks for the 13 massive chimneys and fireplaces were made on location. Moss and clay were used between the logs of the buildings.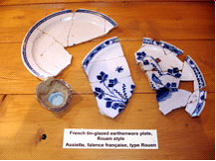 Two wells were dug and four pumps installed for water. Shoreline springs were tapped for water for the boats. Several small gardens were enclosed with fences near the houses and two large gardens (150' by 50') were set out beside the forge and bakery. Two fields of about 2.5 acres were fenced and planted with wheat and peas. During 1732-34 Roma estimated that 800 quintals of flour were made into bread, about 1200 barrels of water drawn for drinking, washing, making beer and watering horses. He also built two reservoirs for water, 2 small flat boats, 2 canoes, and 6 chaloupes.
To preserve food, an ice house and a large cellar were built. The cellar was 120' x 18' x 7.5' deep and covered with heavy beams, brush and clay from the excavation.

Like any venture, Roma had his labour problems. He believed the employees would be happier if the buildings were more attractive. There are many references to beer making, wine and spirits. He combined work with singing, dancing and feasting as a break from tiring labour. Although he reported his workers were not giving 100%, a look at their accomplishments in such a short time with crude tools and relatively few workers is amazing. Consider also that at the same time they were fishing and away on ships. Roma's complement of employees would have been about 100 "settlers" and the crews of 5 ships while they were at Trois Rivières. While all the work was proceeding at Trois Rivières, Roma's men were clearing land and building fish-drying and storage facilities at Havre St. Pierre where about 50 men were stationed. To add to Roma's labour problems, Father Superior in Louisbourg enticed several employees away in revenge over Roma's earlier disputes with the priests.

In 1737 the crops were destroyed by fire and the boat for bringing hay from Sturgeon marshes was stolen by four run-away employees. Then in 1738 an extra-ordinary blow hit when a plague of field mice destroyed the crops. Roma, never defeated, made an intense study of the behaviour of mice and proposed a plan to exterminate them. The winter of 1939 was one of hardship and discontent which worsened when one of the women set fire to a building destroying all the livestock.
Nevertheless by 1744 conditions had improved and Roma's venture began to prosper. His dream was on its way to becoming reality.
Events beyond his control in 1745 ended everything. After the fall of Louisbourg, a detachment of 400 English troops was sent to Isle St. Jean with orders to capture all French, destroy everything and remove the inhabitants. At Trois Rivières there was no resistance on July 17, 1745 when the British ship arrived. Jean Pierre with his son and daughter, two servants and three valets barely escaped to the woods from where they watched the accomplishments of 13 years work plundered and burned in a few hours. He would later estimate the loss at 50,000 livres, counting losses to the last chicken.

Roma's wife, Marie Magdeleine Moreau, remains elusive. She was not mentioned directly in any writings about Trois Rivières or in any census. Perhaps she never lived on Isle St. Jean. Likewise the history of Roma's family is sketchy. There are persons claiming family connections to Roma living in the Maritimes.
The site seems to have remained abandoned until about 1823 when Angus and Hugh Macdonald formally started the "Macdonald Store" and a bustling trading and commercial centre including a tavern. Eight ships were built between 1821 and 1836.

We have here a fascinating piece of almost forgotten Island history to uncover and genealogy to piece together. There is also boundless untapped potential for stories, novels, plays etc. A significant and neglected piece of Island and Canadian history!!!!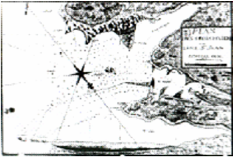 French maps of the 1700s
show NORTH towards the BOTTOM
of the page and SOUTH towards the TOP

Trois Rivières ...
Early French Settlement on PEI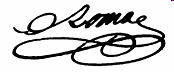 In June 1732 Jean Pierre Roma and his small band of settlers, workers and fishermen sailed into Cardigan Bay on eastern Isle St. Jean (now Prince Edward Island) and landed on what is now known as Brudenell Point to start the settlement which he called Trois Rivières. One of the three ships was carrying "wine, whiskey and other effects", a second brought "fishermen" and a third carried "engagés" (workers who signed up for three years). This was not only an early French colony but the first commercial venture on PEI that survived for 13 years against all manner of setbacks and was starting to prosper and repay its debts when a British war ship ravaged the site and ended the colony.

In 1731 King Louis XV of France granted the owners of the Compagnie de l'Est de l'Isle St. Jean exclusive rights to a 220km by 2.5km strip of coastline along eastern PEI. The terms of the grant created a large feudal estate held in homage to Louisbourg but free of Royal dues. Jean Pierre Roma became the moving spirit behind the venture and the director of the company.