Roma at Three Rivers a hidden gem
A fascinating piece of P.E.I. history is tucked away on beautiful land in Brudenell

One of the things I love most about my job is discovering the hidden little gems in this crescent-shaped crown we call the Island - the gentle coastal path that leads you to the most spectacular of seascapes or the quiet country road that guides you through the most luxurious of landscapes.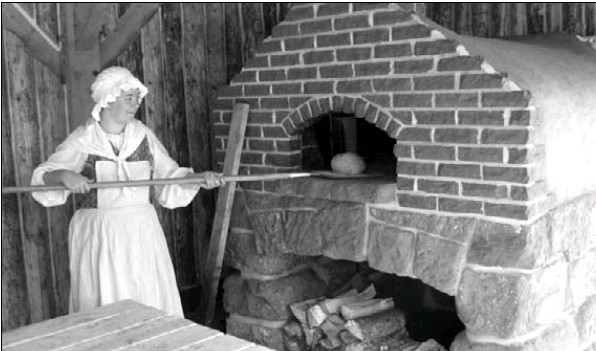 Village baker Katrine Poiroult (Kathleen Knox) pulls out a beautifully baked loaf from her brick oven at the Roma at Three Rivers, National Historic Site in Brudenell.

This Roma article appeared in the August 1, 2009 edition of The Guardian, Charlottetown ... written by Sarah Keaveny Vos

And the fun part is you never know when you'll stumble along the next small jewel. And just last week, while on an afternoon adventure, I was fortunate enough to spot another sparkler.

I had arranged to meet with my now famous female relatives on one of their weekly Thursday walks. The "Hard Core Hikers" as they have taken to calling themselves, (would you believe they are considering having T-shirts made) consisted of my aunts Kathleen and Carol Ann, my cousins Pat and Christine and my mum, Bea.

The girls had pounded the pavement in Panmure Island for two hours that morning before heading to Windows on the Water in Montague for lunch. I met them there and we all enjoyed a sumptuous feast.

After a delicious meal, we set out to explore the Roma site at Three Rivers, in Brudenell, one of the National Historic Sites of Canada.

Roma at Three Rivers is the re-creation of a French settlement established in 1732 by Jean Pierre Roma, a wealthy businessman from France. Roma began the first successful commercial enterprise on Ile St. Jean, now Prince Edward Island, and left a legacy that is still felt today.

The site consists of replicas of the original settlement, thoughtfully re-constructed in French colonial style. The Roma site is a wonderful piece of Island history. It was built several years ago and has been quietly developing ever since. Since it was a first-time visit for all of us, we didn't quite know what to expect. But within moments, we find ourselves captivated by the beauty of the setting and the characters that call it " home."

As we approach the largest building in the park, overlooking the manicured gardens, we see a young couple dressed in the costume of the day, standing outside in the sun. When we ask if there is an entrance fee, we find out that it is free of charge, but donations are gladly accepted. The young woman, who is playing the role of a French girl named Clemence, offers to show us around and explain some of the historical significance of the settlement. She gives us a guided tour and educates us on many of the trials and tribulations the settlers faced while living in P.E.I. in the 1800s. She also clues us in to the fact that many of the nearly 200 residents of this Roma settlement are not very happy, in fact, they are downright dejected.

And they have good reason to be as we soon find out. The sad truth is, the residents of Roma at Three Rivers, are little more than indentured servants to Monsieur Roma. A hard-driving task master who is more concerned with making money than with keeping his residents content, he inspires little loyalty or love.
And each of the characters at the modern day Roma site has a story to tell, even the lovely Clemence who, as it turns out, has been sold by her father in France to Jean Pierre Roma as a house servant. But the arrangement has not gone well.

We meet the village baker, Katrine Poiroult, working near her big, brick oven. Katrine generously shares her fine bread and molasses with us and regales us with stories about life at the settlement, all the while knitting woolen socks for her family to wear in the coming winter.

We walk to the water's edge with Etienne, the young man who works as a farm hand but ultimately hopes to have his own plot of land one day. If only Monsieur Roma would pay him fairly for his work.

As the character share their story, they make this small settlement come alive with history. And when we find out about the wonderful daily lunches served here, the special historical talks given and the plethora of "petite fetes" held throughout the summer, it is clear to see that there is something for everyone to engage in and enjoy.
This is one hidden gem I am delighted to have found.

Sarah Keaveny Vos is a freelance journalist and stay-at-home mum of three. Her life is too busy to be logically making these day trips, which is precisely why she needs to make them. If you have any ideas for fun outings to take on the Island, contact