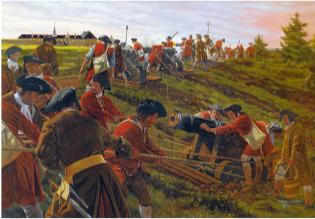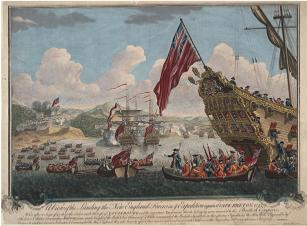 Fall of Roma's Settlement

After the first fall of Louisbourg, British commander William Pepperrell sent an expedition against Ile Saint Jean in June 1745.
This force divided, one part going to Three Rivers, the other to Port-La-Joye.
At Three Rivers Jean Pierre Roma and servants did not give any resistance because they only had

one six pound cannon to mount a defence

.
Roma, along with his son and daughter escaped into the woods where they witnessed the New Englanders burn the village. The family then probably escaped to Saint Peters (PEI) and then went on to Quebec, remaining there until the end of the war.

The Siege of Louisbourg
took place in 1745 when a New England colonial force aided by a British fleet captured Louisbourg, under the Command of William Pepperrell, an American merchant and soldier,

remembered for organizing, financing, and leading the 1745 expedition that captured the French garrison at Fortress Louisbourg during King George's War. During his day he was called the" hero of Louisbourg"

History behind the "GREAT ESCAPE"'

Frank Korvemaker: Archivist / Construction Historian
unearthed Roma's artifacts in late 1960s


On June 19th, 2020 Frank Korvemaker emailed Roma; "So, tomorrow marks the darkest day at the Roma Site - unless you happen to be an archaeologist, and get the opportunity and the honour 223 years later of discovering the buried fragile remains of the French fishing settlement that Jean Pierre Roma and his entourage established in 1732, and carefully nurtured until the New England privateers pillaged and sacked the village in 1745, thereby eradicating a marvellous pioneer dream. But, had the site developed into a permanent thriving community, those archaeological remains would likely have been obliterated well over a century ago. So, every cloud does have a silver lining.

I see you had a special ceremony planned for this summer, but, like the privateers, The Evil Virus came by unexpectedly and ruined all the hope and expectations for these commemorative activities."

(2020 Great Escape posponed because of Covid-19)








By Domenick d'Andrea and Rick Reeves -


Highlights of the Great Escape Festival
August 7 & 14th (12:00 -- 4:30)
ADMISSION CHARGE $7.00 (children under 6 free)

The first public presentations of the commissioned orchestral dramatic piece composed by the internationally acclaimed composer & musician, Leo Marchildon, depicting J.P.Roma's journey, 1732 - 1745.
A video with narration in English and French will enhance the total experience. World Premières -
Two historical enactments depicting the last days at the Roma settlement and the Great Escape. Not to be missed!
View the latest work of art created by the local sculpture, Ahmon Katz, to commemorate J. P. Roma's accomplishments and legacy at Three Rivers.
Each afternoon will feature: Live music & dance presentations
Presentations & demonstrations including basket weaving, making bannock over a fire, drop spindle, blacksmithing, Roma's gold - the cod fishery, medicinal herbs & plants, plus…
An outdoor farmers market with farm products and creations by local artisans.
Delicious food from Roma's kitchen - lunch items, our famous baked bread and tasty treats
Activities for children from the 1700's with a modern twist.


12:00 On deck - Welcome by M. Roma & daughter
Acadian music - Louise Arsenault & Jonathan Arsenault

12:30 Kitchen Shelter/ oven - Bread Baking presentation - Chef Robert Pendergast

1:10 On Deck - The Great Escape: historical vignette - live performance

1:40 In Pavilion - limited seating - Orchestral Dramatic Piece: Roma's Journey composed by Leo Marchildon

2:05 On deck - Scot Parsons- musician

2:30 On Deck - Reequel Smith - Oshun Dance Studio

3 :00 In Pavilion - limited seating - Orchestral Dramatic Piece: Roma's Journey composed by Leo Marchildon - 2nd showing

3:30 On deck - Acadian music - Louise Arsenault & Jonathan Arsenault
& Scot Parsons

4:30 Closing


Roma - The Great Escape Festival
August 14, 2021

Schedule

11:30 - Gates open with COVID information, contact tracing and hand sanitizing

Kitchen open 12 - 3
Food served from half of the Pavilion with sales of bread and cookies
Menu: Vegetarian soup, chowder, fish cakes, meat pies & feature of the day: mussels

Heritage Walk to the Point & Trail -Scheduled times - TBA
In Garden - Medicinal herbs & plants and archaeological activity- scheduled times - TBA

Artisans displays and demonstrations - 12 - 4:00
Farmer's market sales

Displays/ Demonstrations 12 - 4:00
2:00-300 Ahmon Katz - story of the new fish sculpture

Basket weaving - Marjorie Paul Lewis

Roma's Fisheries & chaloupe - Thane LeLacheur & Tim Mair
Blacksmith demonstration

Drop Spindle - Sue Smith

Children's Activities 1:00 - 400
Games from the 1700's, races, activities



ADMISSION CHARGE $7.00 (children under 6 free)