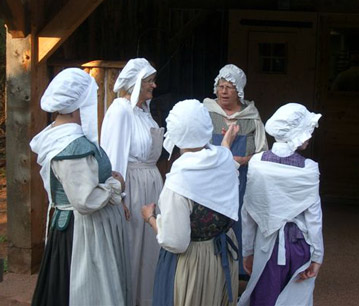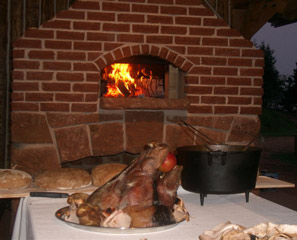 He explained how in 1732, two hundred and seventy-five years ago, he ambitiously began carving the Island's first commercial settlement out of the dense Acadian forest that covered the point of land where the Montague and Brudenell Rivers flow into beautiful Cardigan Bay. Trois Rivières, as he called it, was meant to become the hub of a thriving international network of trade routes, spanning from Quebec to France to Louisbourg to the West Indies. At the centre was Roma's dream, a dream cut short when the Three Rivers settlement was burned to the ground by British privateers in 1745.


THE ROMA FEAST
the 275th ANNIVERSARY OF
Roma at Three Rivers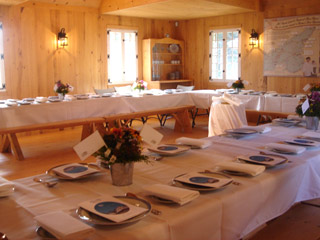 Trois Rivières survived only briefly, but on September 8th Jean Pierre Roma celebrated. He celebrate the 275th anniversary of the founding of Three Rivers. And his guests celebrated with him the entrepreneurial spirit that opened up this special place of the New World.

They came from near and far to celebrate with Jean Pierre Roma his arrival at Trois Rivières 275 years ago. There was good food, good times and good cheer and the merriment went long into the evening. Jean Pierre was the ever gracious host who sized every opportunity to share his past with the assembled guests.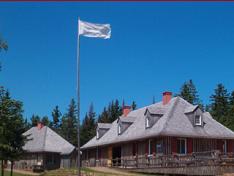 The white flag represented the authority of the King. Since 1661, there was an overall consistency in the choice of certain colors to represent certain things. It was more than coincidence that the most important ships of the navy flew white flags, that the lesser ships flew red flags, and the merchant marine displayed flags that were predominately blue.
White was the King's favourite color ... representing royal authority ...Jean Jans, Roma Board

Jean Pierre Roma with one of his servants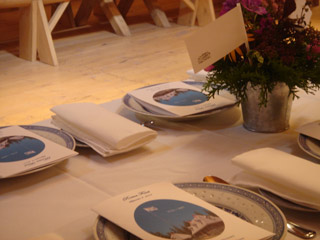 In the 18th century, French colonies in the New World flew a pure white flag, the proud symbol of France. We proudly fly a white flag to honour and commemorate the vision and determination of Jean Pierre Roma; and we also salute his achievements through the Roma Feast held on September 8th, 2007.

Robert Potier Dubuisson & friend
(subdelegate of the intendant on Île Saint-Jean)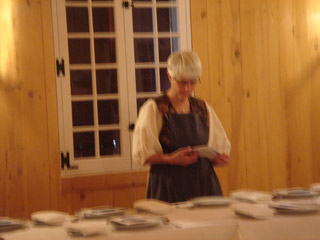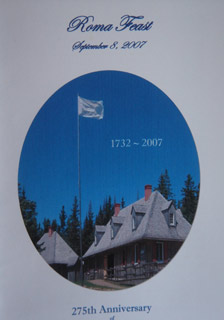 Gwen Beck, Roma Feast Committee places programs for the Feast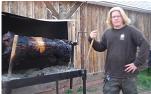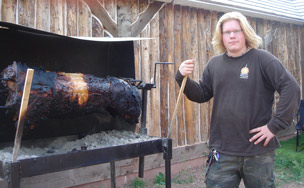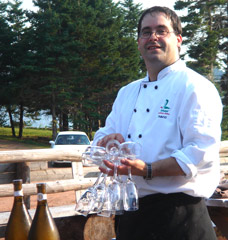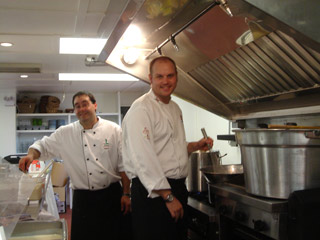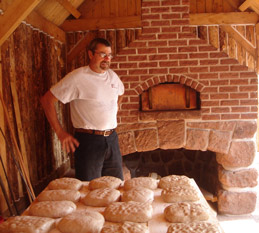 the Feast chefs ... Peter Dewar & Paul Thimot

John Rousseau constructed the oven &

John Rousseau baked the bread for the Feast

Aiden & Randy Angus spit roasted and served the pork for the Feast

the servers take a moment to plan the evening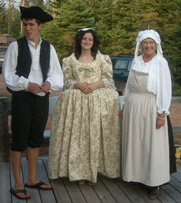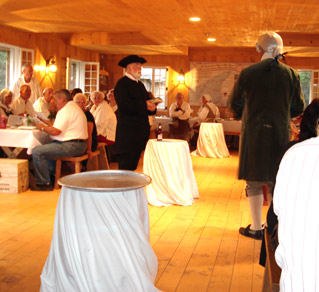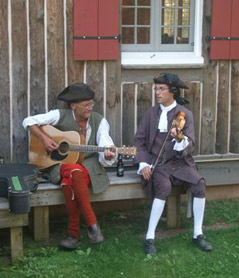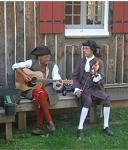 Abbe de Bierne asking the blessing

Minstrels from Fortress Louisbourg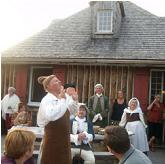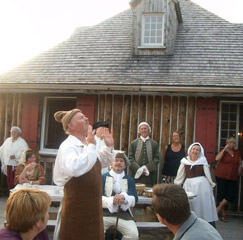 The farmer & the fisherman performed during the reception

Roma's daughter Ann Marie & Roma's son Jean Baptiste with their servant